At Carmel Distinctive Dental, we take great pride in providing advanced facial aesthetics services tailored to the unique needs of our clients. Our exceptional treatments, such as microneedling and microneedling with radiofrequency, are designed to rejuvenate your skin, giving it a healthier and more youthful appearance. Our highly skilled team is dedicated to helping you rediscover radiant skin in a comfortable and discreet environment, ensuring the utmost satisfaction for treatments of this kind.

We understand that everyone's skin is unique, and we strive to offer our clients the best value for their investment in their skin's health. To this end, we are currently offering each treatment for just $350, or a package of three treatments for a discounted rate of $900. We highly recommend opting for the package of three treatments to fully experience the remarkable benefits and achieve the best possible results.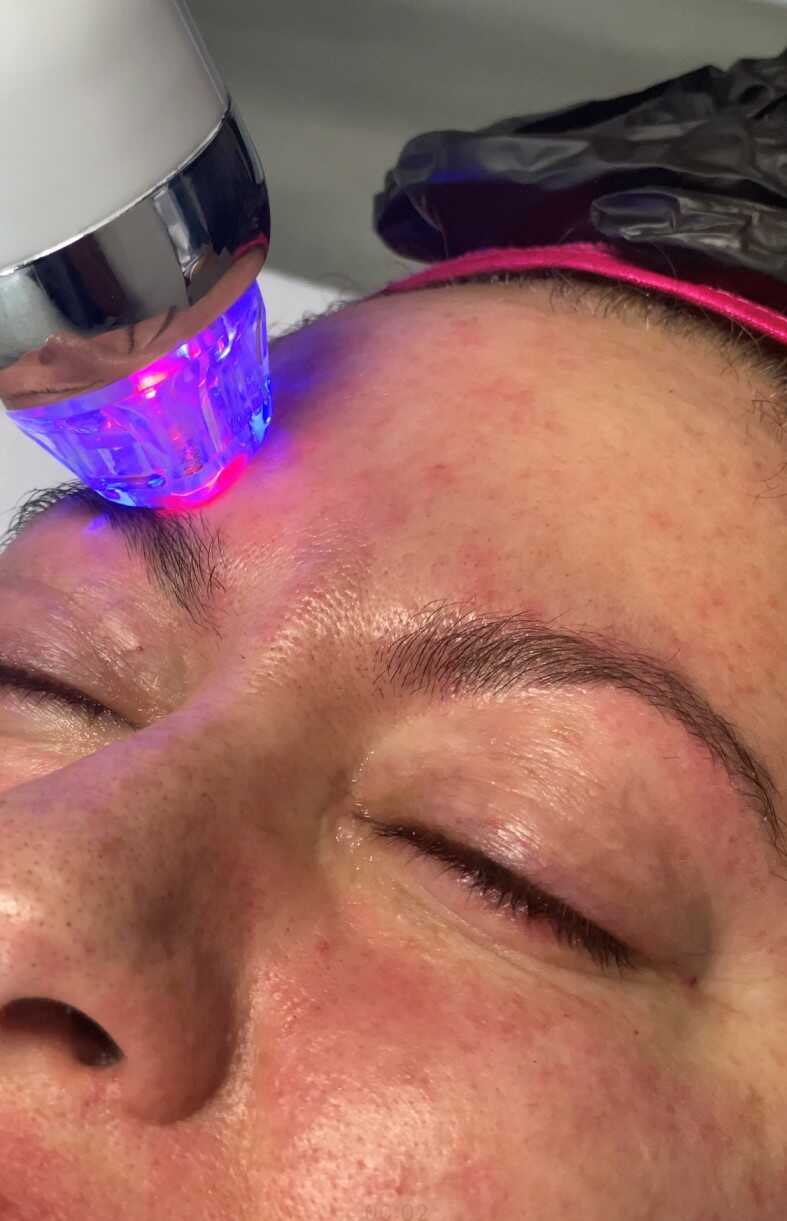 What is Microneedling?
Microneedling, also known as collagen induction therapy, is a minimally invasive skin rejuvenation treatment that stimulates the production of collagen and elastin. The procedure uses fine needles to create micro-punctures in the skin, triggering the body's natural healing process. This response encourages the growth of new collagen and elastin fibers, promoting healthier, firmer, and more evenly textured skin.
Benefits of Microneedling
Microneedling has become a popular treatment option in facial aesthetics, and for good reason. This innovative technique offers multiple benefits, including:
Reduction in fine lines and wrinkles: Increased collagen and elastin production helps to tighten and plump the skin, minimizing the appearance of wrinkles and fine lines.
Improved skin texture and tone: Microneedling can help improve skin texture, tone, and overall complexion by encouraging the growth of new, healthy skin cells.
Diminishing acne scars: Microneedling has been shown to be effective in reducing the appearance of acne scars by promoting skin healing and the regeneration of healthy skin tissue.
Reducing pore size: Regular microneedling treatments can help to minimize the size of pores by stimulating collagen production, leading to smoother, more refined skin.
Encourages natural healing: Microneedling stimulates the skin's healing processes, promoting cellular regeneration, improving blood circulation and enhancing overall skin health.
Minimizes stretch marks: Microneedling reduces the visibility of stretch marks by stimulating collagen and elastin production, improving texture and elasticity of the skin.
Plumps and strengthens the skin: This cosmetic treatment triggers collagen and elastin production, resulting in plumper, firmer skin and reducing the appearance of fine lines and wrinkles.
Reduces saggy skin: Microneedling stimulates collagen and elastin production, tightening and toning the skin, reducing the appearance of saggy skin for a more youthful appearance.
What is Microneedling with Radiofrequency?
Microneedling with radiofrequency combines the benefits of traditional microneedling with the added advantage of radiofrequency energy. This innovative treatment involves the use of tiny needles that create micro-channels in the skin, stimulating collagen production and promoting natural healing. The radiofrequency energy is then delivered precisely to these channels, further enhancing the tightening, firming and rejuvenation effects. The result is smoother, more youthful-looking skin with noticeably reduced fine lines, wrinkles, and scars.
Am I a Good Candidate for Microneedling with RF?
Microneedling is generally suitable for adults who are looking to address the signs of aging. It is a procedure that can benefit individuals of various skin tones as it stimulates the skin to generate new tissue. However, it is important to note that cosmetic dermatology procedures are not typically recommended for children and teenagers, as their bodies are still in the developmental stage.
Rejuvenate Your Skin Today!
Discover the exceptional benefits of microneedling and rejuvenate your skin at Carmel Distinctive Dental. To schedule a consultation or learn more about our facial aesthetics services, Call or text us today at 317-844-9344. Let our team of professionals help you unlock the rejuvenating power of microneedling for a healthier, more radiant complexion.